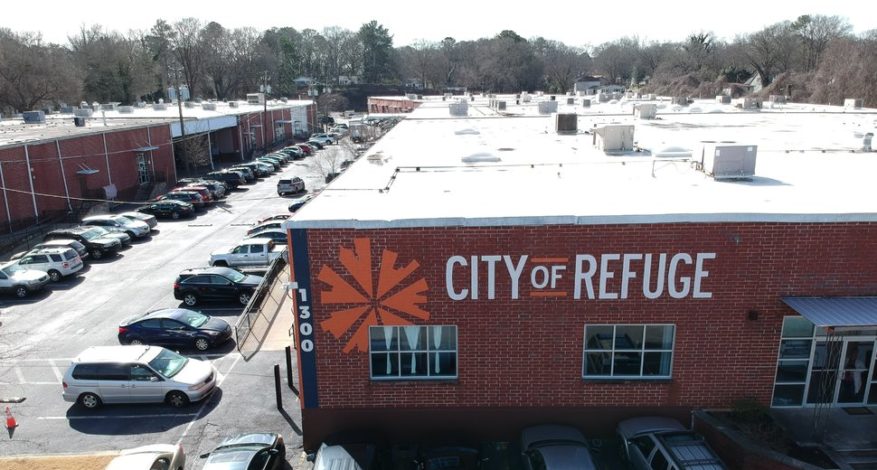 Blog
In Atlanta, Charities Struggle On Despite COVID-19
ATLANTA — The increasing restrictions designed to limit the spread of the novel coronavirus are encroaching on many aspects of daily life. Yet for charities serving those in need, their mission must continue – and in some cases, the need is greater than ever.
"We're helping those who need the most help," says Charlie Frew, president and CEO of Jerusalem House, an Atlanta nonprofit that provides housing for low-income and homeless people affected by HIV and AIDS. "With a population like ours, with the health issues they're dealing with, we need to do everything we can to identify funding to keep everything moving as seamlessly as possible."
By midweek, Georgia had seen close to 5,000 confirmed cases of COVID-19, the disease caused by the novel coronavirus, and more than 150 deaths. And while Atlanta is home to the Centers for Disease Control and Prevention, which plays a key role in the fight against the coronavirus, the state capital also is home to thousands of people living with HIV, many of whom have turned to Jerusalem House to provide housing and "wraparound" services such as financial education and links to medical providers.
Photos: America at Standstill
Often, people have been sleeping in cars or under bridges before getting help.
"We opened our doors in 1989 with the purpose of providing housing to people living with AIDS," Frew says. "At the time there were no medications for it and people didn't know about testing positive for HIV until after they were sick. There was so much stigma back then, even more so than we have today. A lot of people were being thrown out of their apartments when they became ill."
Though times have changed, HIV and its accompanying stigma still exist, especially among certain populations. A 2016 CDC analysis showed that 1 in 2 black men who have sex with men in the U.S. would be diagnosed with HIV if trends from 2009-2013 held steady, and placed the overall lifetime risk of HIV diagnosis in the country at 1 in 99.
In Georgia, 1 in every 51 residents was at risk of an HIV diagnosis, and the state in 2017 claimed the highest rate of HIV diagnoses of any state with nearly 25 per 100,000 people, according to CDC statistics.
More than 2,000 people have lived in Jerusalem House properties since the organization opened, including more than 400 adults and 170 children today. And with schools closed and staff work curtailed, the nonprofit, like many others around the country, remains open.
Jerusalem House's staff is working mostly from home, logging into the organization's software remotely to perform routine tasks. But security and maintenance crews remain on-site at the organization's two properties, with rotating schedules and social distancing requirements in place. Notices also have been posted for residents reminding them to limit social interactions.
With children out of school, case managers stay in contact through cellphones, and can make home visits if issues arise. Staff and residents alike must report feeling symptoms, and as of April 2, no one had fallen ill from the coronavirus. Wraparound services are mostly on hold for the moment, save for transportation to needed medical appointments.
The virus also has impacted another essential function: fundraising.
Jerusalem House's sold-out 30th anniversary dinner was set for March 26 at a five-star Atlanta hotel. That event – like many others – was canceled, and a potential reschedule this fall will place any money raised into a different fiscal year. Jerusalem House expects individual donations to be canceled or delayed as well, threatening its ability to house new people coming through its doors.
One piece of good news is that Frew says 85% of Jerusalem House residents maintain healthy CD4 counts – tallies of white blood cells that fight infection and are targeted by HIV. That means they may not be at greater risk from COVID-19 than the general population, as those who are immunocompromised are considered to be.
Typically, Frew says, just getting into permanent housing dramatically improves a person's health – a relationship reflected in the group's motto, "Housing is Healthcare."
"A big trigger for HIV is stress," Frew says. "When people don't have homes, all they're thinking about is where their next meal comes from or where they'll lay their head. We believe housing is the way to get someone on the path to improvement."
The scramble to adjust also has hit City of Refuge, a nonprofit sheltering 150 people who were experiencing homelessness, such as victims of sex trafficking or women recently released from incarceration. The organization serves women and children only and operates out of a 210,000-square-foot warehouse located in one of Atlanta's most poverty-stricken ZIP codes.
Bruce Deel started City of Refuge in the late 1990s as a one-stop shop for people living their day-to-day lives in crisis. He's now working to keep the operation going for both the short and long term.
Roughly half of those sheltered are children, and while the school and day care at the campus have closed due to the coronavirus pandemic, volunteers had until recently continued to provide child care for residents still reporting to work, and the nonprofit had helped those residents get to and from their jobs without using public transit to avoid risk of infection.
Even before the order, he says, many volunteers had canceled their assignments, and the long-term picture isn't much brighter. City of Refuge indefinitely postponed two of its largest fundraising events, a 5K race and golf tournament, and expects donations to drop along with the wider economy.
"Folks give out of their abundance, and if the abundance is less for them it'll be less for us," Deel says. "We're already looking at cost-saving measures, and some staff positions may be furloughed or terminated."
Deel and his staff hold meetings to discuss the latest virus reports and aggressively sanitize the space, with signage placed throughout the campus about hand-washing and social distancing. He describes the coronavirus as one more crisis layered on top of those already felt by nearly everyone living at City of Refuge.
"We have 27 residents who were victims of sex trafficking, and many were held captive during their exploitation," he says. "Now we're saying they need to stay locked down on our campus. It can be triggering due to their past experience. Now they feel they are locked up again."
Care specialists and mental health experts meet with residents – in person while maintaining distance – to help them overcome those experiences.
As of April 2, City of Refuge was operating at roughly 60% of its normal capacity. Along with the school and day care, its work placement efforts have ceased operations. Staff morale remains high, though that's not always the case for residents.
"We're praying together," says Deel. "My staff can go home in the evenings. Most residents are having to stay on the campus 24 hours a day, with limited activities and programs. That's one of the challenges we're trying to address."
Residents try to stay active, walking laps around the parking lot and entering the campus gym in groups of two or three at a time. Arts and crafts activities have been set up for children, and movies are played in the sanctuary for groups of six or eight.
Some programs likely will be cut permanently, Deel acknowledges, along with staff. Yet with the economy hit hard, more people also could be turning to the nonprofit for help.
"The need for the services we provide actually increases at the same time the resources to meet that need decreases," Deel says. "We'll really know from three to six months from now how this has impacted us."